BUTS member spotlight on Lori Lyons: Yes, I ate 52 gels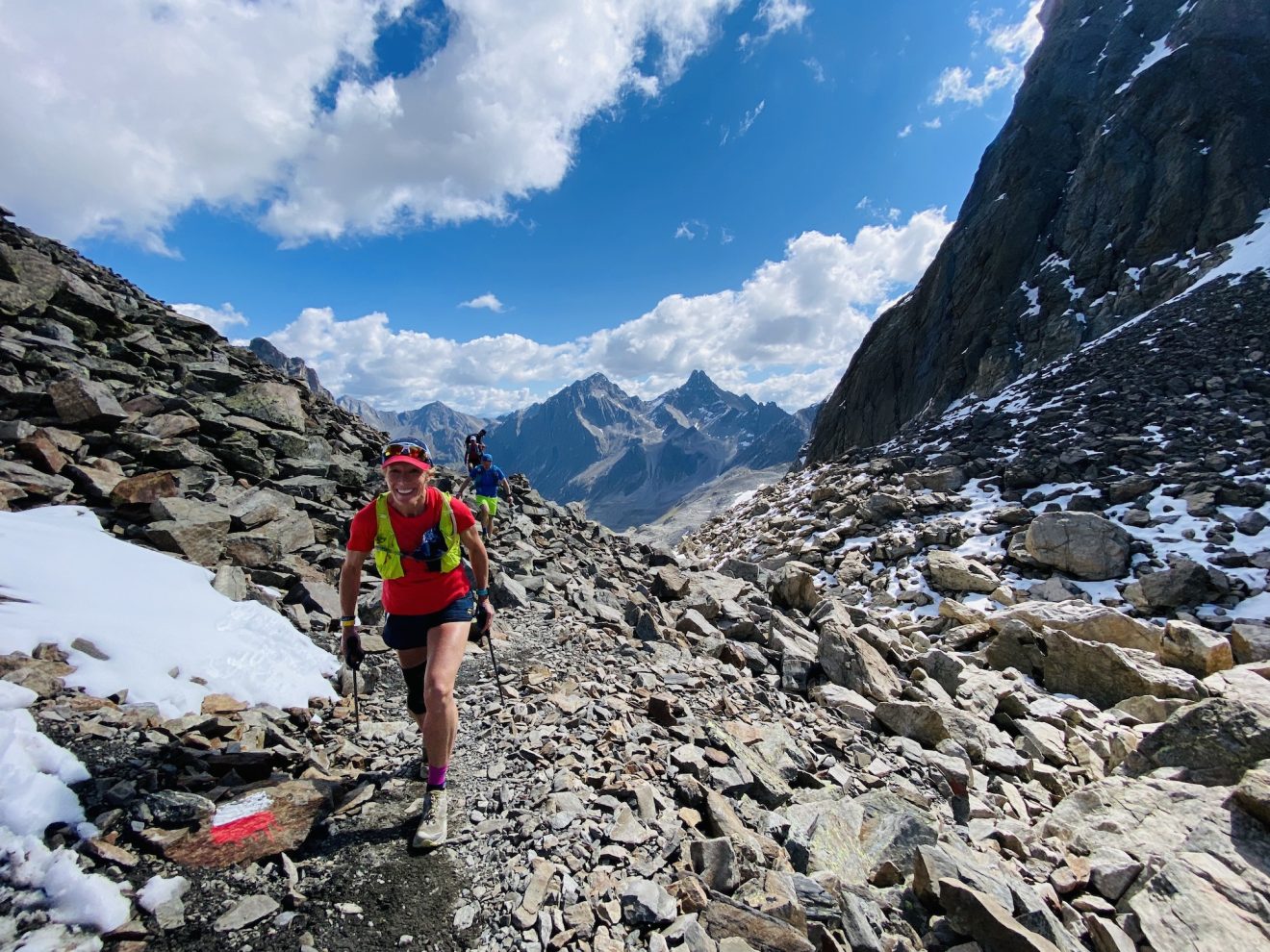 Lori Lyons during the TransAlpine Run, in the Austrian, Swiss, and Italian Alps
This month, we hear from Lori Lyons, who, among other BUTS backing, is the group's swagmaster.
When did you start trail running and why? I started road running in middle school (ca. 1982) and didn't transition to trails until 2010.  Two good friends of mine in Boulder had signed up for TransRockies in 2010 and I followed their progress with great interest, and wanted to do it myself.  I got my first pair of trail shoes from a DSW.  I was shopping for sandals and saw these shoes with lugs and thought "these look sturdy".
What is your favorite distance? I don't race much, only once or twice a year. I am naturally clumsy and don't wear glasses on the trail, which makes me supremely bad at night running, so 50K or 50mi are best.  Done by dusk. I also enjoy stage-racing, because it's like a Runcation.
Biggest mistake new trail runners make? Buying your first trail shoes at DSW! Go where you can be advised. As a former road runner, I'd say the biggest mistake is fixating on pace while you're running. You have to just do the best you can on whatever terrain is in front of you, which may include walking, and let pace concerns go. Check your average at the end of your run.
Favorite food on the run? Spring Energy gels. I consumed 52 of them at Javelina. I also love tiny potatoes boiled in loads of salt. If you're bougie, the best ones are the small purple Japanese sweet potatoes.
Best place you've been blessed to run? Without question, the Austrian, Swiss, and Italian Alps during the TransAlpine Run. I cried every day in amazement. And also terror.
What's something people don't know about you? I did my undergraduate work at Ohio State.  I keep that on the downlow here in Alabama.
Biggest mistake ever on UltraSignup? Moab 240 this October.  Wasn't even drunk when I signed up.  I had a horse accident and shoulder surgery in February, so I couldn't start training until June. I considered bailing, but then I saw a completely unrelated but timely post by Jessica Vandenbush (of Eat Clean Run Dirty) that said "Don't wait until you're ready. Do it scared."  Roger that. I plan to hike the whole thing and hope I get to the end on time.
About Lori: I'm married to a Bham native, and we have one 15-year-old son. I refer to them as "The Great Indoorsmen," which is why you probably have never seen them with me!  We moved to Birmingham in 2019 from Los Angeles.  The BUTS community and the accessibility of trails have contributed significantly to my happiness here. I'm currently a stay at home mom, ex-workaholic, occasional consultant, and aspiring novelist.