BUTS Annual Party is March 19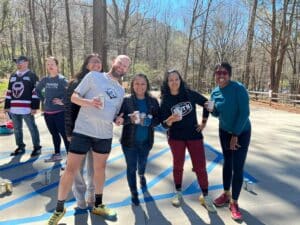 We hope to see EVERYONE at Turkey Creek Nature Preserve on Sunday, March 19 at 1 p.m. for the BUTS Annual Party.
This will be our second year at the awesome Turkey Creek pavilion and you do not want to miss it. We will have door prizes, games, and the return of the Beer (or other beverage) Mile Championship! Also new this year, is the Polar Plunge (or regular plunge if its 87 degrees in March in Alabama).
Please feel free to bring your favorite beverages and a snack or appetizer to share. All are welcome.
Membership shirts will be available for pickup at the party for new or returning members.